10 Aug

Global Diversity & Inclusion Benchmarks Event – Seattle – Sep 27,2017

We are happy to announce adaQuest's sponsorship for the upcoming Global Diversity & Inclusion Benchmarks Seattle Event. 

Please see below for details and consider Saving the Date to attend this event.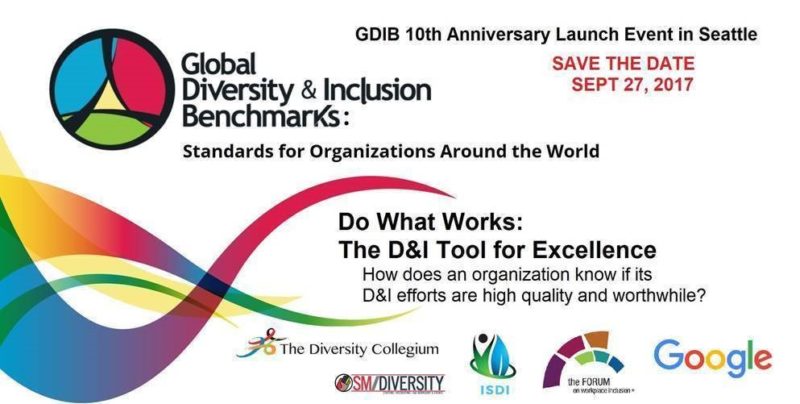 You are invited to attend the GDIB 10th Anniversary Launch Event in Seattle
Do What Works: The D&I Tool for Excellence
SAVE THE DATE:  September 27, 2017
Time:   5:30 – 9:00 pm
Location:  Seattle
Host Sponsor: Google
How does an organization know if its Diversity and Inclusion (D&I) efforts are high quality and worthwhile—meaning delivering sustainable change.
The Global Diversity & Inclusion Benchmarks: Standards for Organizations Around the World (GDIB), is a FREE resource that organizations and their members can use to assess their current state on D&I, to determine short-and long-term goals, to engage management and staff, and to measure progress.
The GDIB contains 266 benchmarks (or standards) in 14 categories separated into four main groups. Each category features five levels of performance, from where little work is being done to the level of best practices. The GDIB is authored by two globally-recognized D&I professionals and curated by 95 experts from around the world. The GDIB is the only free, publicly available document that identifies comprehensive, systemic standards for D&I work.
Attendees of this event will become more knowledgeable and empowered for executing Diversity and Inclusion efforts, and by unpacking the GDIB, attendees will discover a developmental path for improving their organizations' performance on D&I.
The event is free.  Speakers, topics, and a breakout session program to be announced.
Refreshments will be provided.
Registration opens soon.  Space is limited.
Save the date for this important event.
SMDiversity.com and The Institute for Sustainable Diversity and Inclusion (i4sdi.org)